Band and Orchestra
The Band and Orchestra program is dedicated to the growth and nurturing of young musicians in all levels.

BEGINNING BAND and BEGINNING ORCHESTRA.
Maxine Smith STEAM Academy
Many students enroll in the "Beginning Band" or "Beginning Orchestra" program without any prior experience on the instruments that they choose. Throughout the year, the students learn proper technique, musicianship and music literacy as they explore their newfound talents.

ADVANCED BAND
Maxine Smith STEAM Academy
This class focuses on refining the foundations set in the beginning year band class. The students learn to focus more on their musicianship while further developing their sense of artistry within the ensemble. The Advanced Band performs every quarter as well as performing within the community as well as participating in WTSBOA sanctioned events.

ADVANCED ORCHESTRA
Maxine Smith STEAM Academy
The Advanced Orchestra is a string orchestra that students are accepted in to by audition. This group frequently performs in the school and in the community as well as participating in WTSBOA sanctioned events.


SENIOR BAND T-STEM Academy
at East High School
We are proud to announce that we are reviving the Mighty Mustang Band! Several years ago the band program was closed down due to low school enrollment. The revitalization of East High School with the T-STEM Academy has brought a rebirth to the Mighty Mustang Band. These students are perform on a regular basis in the school, athletic events, at WTSBOA sanctioned events and within the Memphis community. The band requires prior middle school experience to join OR a required amount of after school lessons to learn your instrument if you are new to band.
​

SENIOR ORCHESTRA
T-STEM Academy at East High School
This class is a string orchestra that consistently pushes them selves to perform a high caliber of music literature. Students entering in to the T-STEM orchestra are dedicated musicians that strive for excellence at all times. This group performs between two-four times a quarter. They also participate in WTSBOA sanctioned events as well as performing in the Memphis community and more.
Powered by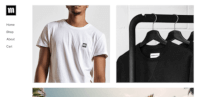 Create your own unique website with customizable templates.